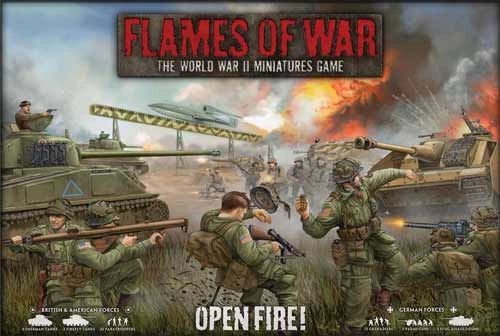 Open Fire!
Welcome To The War
Welcome to the world of Flames Of War, the World War Two miniatures game that put you in command of the men and machines that fought in the decisive battles of the Second World War. As a commander, it is these difficult decisions that you will constantly be faced with on the battlefield as you attempt to match wits and cunning with your opponent as you both try to attain victory.

Open Fire provides everything you need to get started in Flames Of War. Open Fire offers the new player a first glimpse into a world that combines the joys of painting and modelling their own miniature army with the challenge of facing off against an opponent across a gaming table in a social setting. You'll get to recreate history or change it! But more importantly have fun while doing it.
Includes one 52 Page Full Colour Quick Start Guide, one 296 Page Full Colour Complete Rulebook, More Than 118 Finely Detailed Miniatures, V1 Flying Bomb Terrain Feature, Cardboard Terrain, Tokens, Objective Markers, Army Lists & 20 Dice.