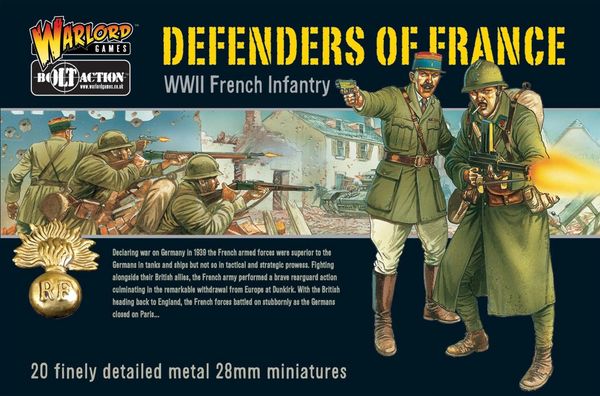 Defenders of France
Description
Although much has been written of the German armoured forces and the defeat of the British at Dunkirk in the dark days of 1940, much too little has been written about the gallant stands made by the French army.
The French started World War II as the most powerful army in the world. Well equipped, with good tanks and artillery, the infantry divisions were numerous and confident of fighting off the hated Boche as they had been twenty two years before. This was not the same war and the French infantryman found himself all too often fighting off German armoured units which had outmanoeuvred them with ease.
Requires Assembly
This product is supplied unassembled and unpainted. Glue and paints not included.
Their weapons were adequate, but only just, and it was for the honour of France and their regiment that so many Frenchmen dug in and fought it out against a more scientific and deadly foe. By the time of the cease fire they had killed 27,000 Germans but had suffered appalling losses of nearly 100,000 dead and 250,000 wounded. ¨ÜIt was a big price to pay and Frenchmen went on to fight against the Allies with Vichy France, ensuring admiration and loathing in equal measure.
Warlord Games' tough infantry are equipped as a standard squad with command and support weapons attached...
Defenders of France contains:
Command: 1 Officer with pistol, 1 Sergeant with rifle, 1 Corporal with rifle grenade launcher and 2 soldiers with carbines
12 man section: Sergeant with rifle, Corporal with rifle, 2-man Hotchkiss LMG team, 7 riflemen and 1 soldiers with rifle grenade launchers
81mm mortar and 3 crew