Beyond the Gates of Antares Starter Set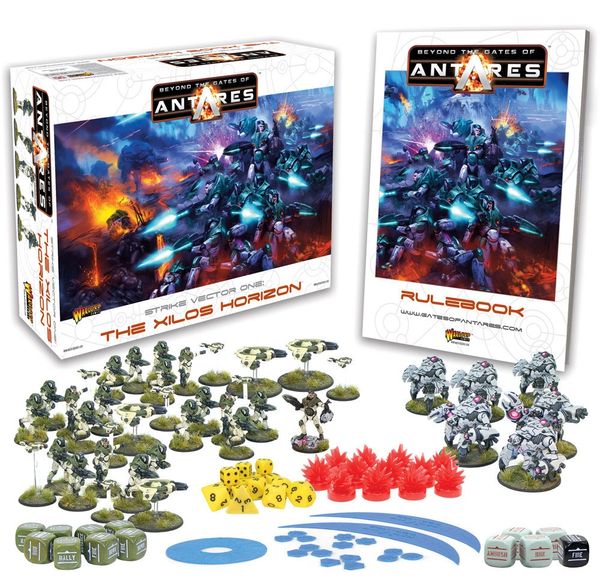 Beyond the Gates of Antares Starter Set
Strike Vector one: The Xilos Horizon is the battle starter set for Beyond the Gates of Antares.
Launch Edition of the box game contains the hardback rulebook and launch edition miniature, available for a limited time.
Developed from the award winning Bolt Action game system and dynamic turn system.
Written by Rick Priestley, creator of Warhammer 40,000
In depth gaming universe with epic background
Quality multi pose plastic models within the game with an ever expanding range of plastic, metal and resin models available
Mature games system, perfect for small skirmish actions through to large scale battles
Builds on the existing Beyond the Gates of Antares range
Box Contents
Our starter set contains everything you need to start gaming including complete tabletop wargame rules army list, battle scenarios and two opposing forces: the Concord and Ghar.
Full colour 260-page hardback rulebook.
Quick reference sheet.
Getting started booklet.
3 multi-pose plastic Ghar Battle Squad walkers.
3 multi pose plastic Ghar Assault Squad walkers.
20 multi-pose plastic Concord Strike Troopers.
4 plastic Concord support drones.
8 plastic spotter drones.
Strike Leader Kai Lek Atastrin metal figure.
12 order dice.
Ghar distort dice.
13 Polyhedral dice.
Launch Edition plastic templates and tokens.
12 red plastic pin markers.
Note: Models supplied unassembled and unpainted